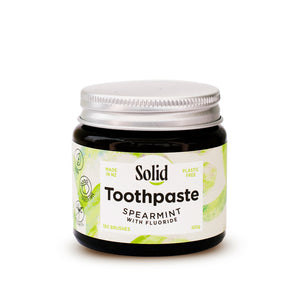 This Solid Oral Care Spearmint Fluoride Toothpaste Jar has a delicate, smooth, sweet mint flavour with a refreshing finish, and will strengthen and polish your teeth while also providing that icy after-brushing feeling. It contains the NZ recommended amount of fluoride (1000ppm) to provide effective decay protection and is safe for children. All Solid Oral Care products have been formulated by a dental professional.
Use a clean dry spatula to apply a pea sized bead of toothpaste to the toothbrush. Brush teeth thoroughly for two minutes. Spit excess toothpaste from mouth but do not rinse. Children under 6 use a smear of toothpaste and brush with adult supervision. Brush every morning and night. Store out of reach of children and pets.
This fluoride toothpaste comes in a glass jar as a safe and sustainable alternative to toothpaste in a plastic tube. A jar of toothpaste will last approximately 3 months with twice daily brushing.
We can't refill your own container, but Solid Oral Care can sterilise and reuse returned glass jars up to 30 times! If you fully clean and de-label the jars, you can return them to us and we'll send them back for reuse.
Product Information
Ingredients: Calcium Carbonate; Xylitol; Glycerin; Water; Sodium Bicarbonate; Coconut Oil; Flavour Oil; Sodium Lauroyl Sarcosinate; Guar Gum; Menthol; Monk Fruit Extract; Contains 1000ppm Fluoride As Sodium Monofluorophosphate
Allergen Warning: n/a
Country of Origin: New Zealand
Storage: Store away from direct sunlight.