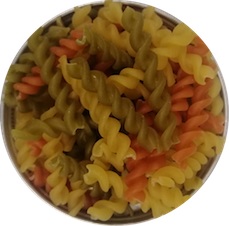 These Vegeroni Pasta Spirals add something a little bit different to your pasta meal and help you to avoid plastic packaging. They are made from natural ingredients with no additives or artificial colours or flavours. They are a combination of Duram Wheat Semolina, Tomato paste, Spinach powder and Beetroot powder which give the pasta spirals their different colours.
They are perfect to use in most pasta dishes and combined with vegetables and protein they make a well balanced meal.
Product Information
Ingredients: Durum wheat semolina, Tomato paste (2%), Spinach powder (1%), Beetroot powder 1%.
Product origin: Australia
Allergen Warnings: May Be Present Egg, May Be Present Soy
No Artificial Flavours or Colours, No Preservatives
Store in a cool, dry place away from direct sunlight.