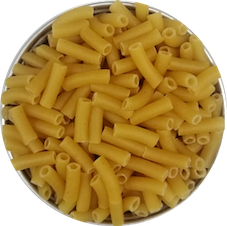 This San Remo Macaroni is ridged, hollow tubes which are cut flat at the ends. it is a very versatile pasta which can be used as macaroni cheese, with toppings, in salads and in bakes. 
Pasta is typically low in sodium and only contains one ingredient being 100% Duram Wheat Semolina. 
Combine your pasta with veggies and protein for a nutritious meal. 
Product Information
Ingredients: 100% Durum Wheat Semolina.
Product origin: Australia
Allergen Warnings: May Be Present Egg, May Be Present Soy
No Artificial Flavours or Colours, No Preservatives
Store in a cool, dry place away from direct sunlight.