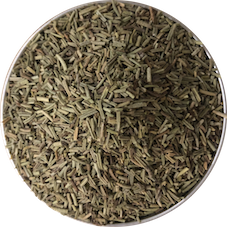 Rosemary is a herb which holds its flavour very well once dried. It has quite a cooling, woody, minty flavour with a strong aroma which is a little peppery. Rosemary is the perfect herb to pair with meat and especially gamey meat. It can be used with roasted vegetables as well as in stuffing and sauces. We find a little will go a long way with this herb when we are using the dried version in the kitchen.
Product Information

Ingredients: 100% Rosemary
Allergen Warnings: Packed in a facility handling gluten, dairy, soy products, sesame seeds, tree nuts and sulphites. 
Storage: Store in a cool, dry place away from direct sunlight.