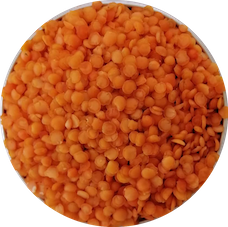 Dried Lentils are an excellent source of plant based protein. They are high in iron, folate and B vitamins. They help with lowering cholesterol and digestive health as well as increasing energy and are great for the heart.
These Red Lentils are split so they don't typically need any pre-soaking and cook quicker than other whole lentils.
Rinse the lentils and then cook in water using approximately 3cups of water to 1c of lentils. Boil the water, cover and reduce the heat to simmering. Usually red split lentils will only take 5-10 minutes to cook. If adding salt, ensure you add it at the end to prevent the lentils going tough.
Once cooked, lentils will last in the freezer in an air tight container for up to 6 months.
Lentils are an excellent substitute for meat. You can use them in soups, stews or salads and they are also a great binder.
Product Information
Country of origin: Canada
Ingredients: 100% Dried Red Split Lentils