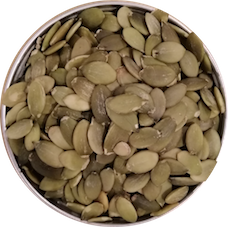 Pumpkin Seeds are a dark green seed rich in magnesium and zinc, as well as high in a diverse range of antioxidants linking them to several health benefits.
Also known as pepitas, they originally came from Mexico and were dried in the sun then used as a key ingredient in sauces and eaten as a snack for nutritional value.
Pumpkin seeds can be roasted or they go great in soups, salads, trail mixes, or just eat them raw.
Product Information
Ingredients: 100% Pumpkin Seeds
Allergen Warning: n/a
Country of Origin: China
Storage: Store in a cool, dry place away from direct sunlight.