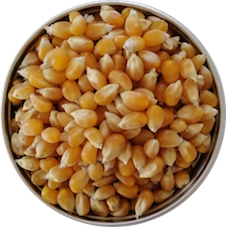 This New Zealand grown popcorn is a great zero waste snack which is quick and easy to prepare. 
Place a small amount of coconut oil in a pop and heat up then place your kernels the pot and cover with a lid. Cook on a medium heat until the popping sound stops, remove from the heat and sprinkle with a little sea salt or your favourite topping. 
Our favourite flavourings for popcorn are a little bit of salt and a small sprinkle of coconut sugar or even better yet a little bit of salt and a sprinkle of nutritional yeast.
Product Information
Ingredients: 100% Popping Corn
Country of Origin: New Zealand
Store in a cool, dry place away from direct sunlight.