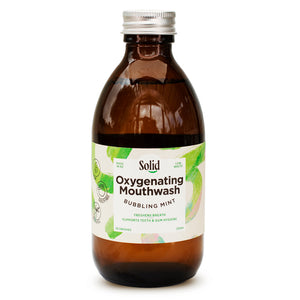 Solid Oral Care's Oxygenating Mouthwash is an effective triple-action mouthwash with a minty flavour that bubbles in your mouth! The oxygenating mouthwash utilises oxygen bubbles to clean your tongue, teeth, and gums. It comes in a 250ml glass bottle, which can be returned to Solid for sterilisation and reuse; just bring your empty bottles back to us and we'll arrange the rest!
When used daily, one bottle will last approximately 50 days.
For a quick fresh breath fix, hold one capful of mouthwash on top of your tongue for 60 seconds or until you feel bubbling. Expel and rinse if desired. To support teeth and gum hygiene, swish one capful of mouthwash around your teeth and gums for 60 seconds. Spit. Use alongside Solid Oral Care's stainless steel tongue scraper for best results.
Product Information
Ingredients: Purified water; Glycerin; Xylitol; Hydrogen peroxide (1.5%); Polysorbate 20; Mint flavour oil; Sodium citrate.
Allergen Warning: n/a
Country of Origin: New Zealand
Storage: This product utilises oxygen: for best results use within 3 months of opening bottle.