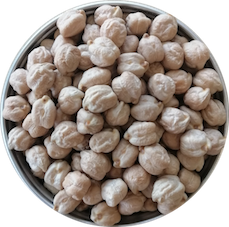 Chickpeas were originally cultivated in the Mediterranean and Middle East many years ago. Rich in fibre and protein chickpeas are naturally are gluten-free, so another highly nutritious, versatile legume. Dried Chickpeas are best soaked for roughly 12 hours pre-cooking. They normally need cooked for about 1-2 hours for most recipes and then from there you can use them in curries, salads, as a meat alternative in patties or by roasting them for a quick snack.
Check out our recipe for Spiced Roasted Chickpeas here for a highly nutritious, quick and easy snack that the kids might even love.
Refill in any of the size options available or if you want to talk to us about larger quantities please just get in touch.
Product Information
Ingredients: 100% Dried Chickpeas
Country of Origin: Australia
Storage: Store in a cool, dry place away from direct sunlight.