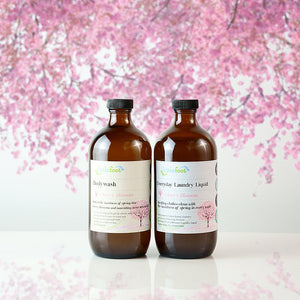 Littlefoot Cherry Blossom Bodywash is, like the cherry blossoms which bloom for only 2 weeks in Spring, available for a limited time only!
Littlefoot Cherry Blossom Bodywash is made with all-natural cherry blossom fragrance oil and sweet almond oil for a fresh and fragrant cleanser inspired by natural essential oils that soothe and refresh your body and mind. This bodywash formula contains plant-derived cleaning ingredients, essential oils, and other thoughtfully chosen ingredients. Its delicate foam rinses clean leaving your skin smooth and soft. It's the perfect way to wash away a day's stress.
Dispense product into hands (or shower sponge, loofah, etc. - we recommend the Safix Body Scrub Pad!) and rub thoroughly all over the body. Rinse away with warm water and allow yourself a minute to enjoy the relaxing sensation of being clean.
All Littlefoot products are made using only natural, environmentally friendly components. We send back all of our bulk containers to Littlefoot for refilling over and over, so we create zero waste by refilling yours.
Please Note: When you select a 'New Container' it includes the cost of a new reusable container.
Product Information
Ingredients: Water (filtered water (used as the base of the product); Lauryl Glucoside (ultra-mild cleanser derived from corn starch and coconut oil, gentle and non-irritating to skin); Vegetable Glycerine (natural corn-derived solubliser for extracts, provides shelf life stability for extracts); Decyl Glucoside (mild coconut oil and sugar derived cleanser, used to blend essential oils into water); Cocamidopropyl Betaine (mild coconut oil derived cleanser foam booster and stabiliser); Cherry Blossom Fragrance Oil (natural fragrance); Sweet Almond Oil (natural oil rich in vitamins and minerals and a natural moisturiser); Citric Acid (organic acid, modifies the PH for optimum cleaning and stability)
Allergen Warning: n/a
Country of Origin: New Zealand
Storage: Store away from direct sunlight.