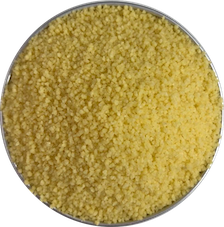 Couscous is a type of pasta which is made from semolina flour mixed with water. Semolina flour is extremely high in gluten and is a common flour used in pasta's so if you are following a gluten free diet you may want to limit the amount of couscous you consume. Couscous can be cooked super easily by just adding some boiling water to it in a bowl and covering it to absorb.

Couscous can be used cooled in salads and is delicious with added nuts and seeds. It makes a great side to any meal and absorbs sauces and herbs very well so is a quick and easy add on to a main meal.
Product Information
Ingredients: Couscous fine
Product origin: Morocco
Allergy warning: Contains gluten
Storage: Store in a cool, dry place away from direct sunlight.