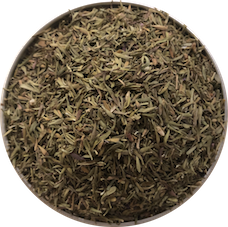 Thyme is another herb which is a member of the mint family. Thyme is a relative of the oregano herb and can be used in the same or similar ways in the kitchen. Thyme is a great herb to use with roast chicken and roasted vegetables, it's also great to add to meat dishes, into stuffing and with other dishes which are being roasted or slow cooked.


Product Information

Ingredients: Thyme
Allergen Warnings: Packed in a facility handling gluten, dairy, soy products, sesame seeds, tree nuts and sulphites. 
Storage: Store in a cool, dry place away from direct sunlight.