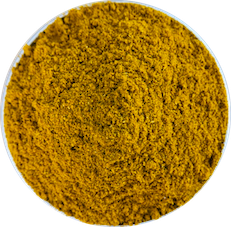 Our curry powder consists of turmeric, coriander, ginger, cumin and chilli peppers. It is the perfect spice for Indian dishes and is a medium strength.
Product Information
Ingredients: Turmeric, chilli powder, ground coriander, ground cumin, ground ginger and ground pepper.
Allergen Warnings: Packed in a facility handling gluten, dairy, soy products, sesame seeds, tree nuts and sulphites. 
Storage: Store in a cool, dry place away from direct sunlight.