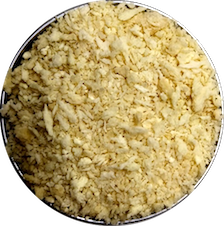 Panko Breadcrumbs are a Asian style breadcrumb which can be used in substitute for breadcrumbs or to coat any fried food that you are making. They are typically crunchier than regular breadcrumbs and hold their crunch a little better when fried.
They are a crunchy edition to casseroles, fried courgette and other vegetables and anything else you want to add a crust to.
They are made from a based of wheat with added seasoning and salt.
Product Information
Ingredients: Wheat Flour (contains contains gluten), yeast, sugar, salt
Allergy warning: Contains gluten
Product origin: Indonesia