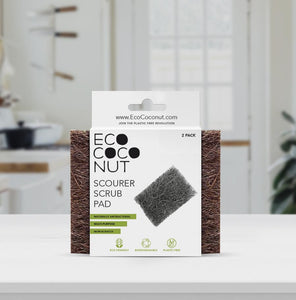 EcoCoconut Scrub Pads are made from sustainably farmed natural coconut husk, that would otherwise be discarded, and organic natural rubber tree latex. They are naturally antibacterial, non-scratch and incredibly durable.
EcoCoconut Scrub Pads are safe on 'non-stick' surfaces and glassware, and are softer than the Scourers, making them perfect for anything a bit special or fragile. They can be used for the washing up, household cleaning, and to achieve a sparkling hob, shower or bath! Tough on grease and mould but gentle on the environment.
Although EcoCoconut have tested 1000s of surfaces and we personally have never had a problem, please remember to do a patch-test for scratching first.
EcoCoconut are leading the plastic-free revolution and are committed to bringing plastic-free, sustainably-sourced products to our kitchens and bathrooms. All their packaging and shipping materials are 100% plastic-free. They also helped establish the 'Going Beyond' programme; a charity in Sri Lanka which brings clean drinking water to 16 villages with high prevalence of Chronic Kidney Disease. "With every EcoCoconut purchase you are actively contributing to providing clean drinking water to communities in need."
Product Information
Ingredients: coconut husk; organic natural rubber tree latex
Allergen Warning: latex
Country of Origin: HQ in Australia, manufactured in Sri Lanka
Storage: n/a