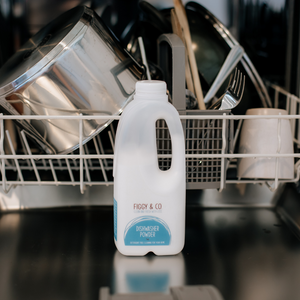 Figgy & Co Dishwasher Powder is made from only natural, safe and non-toxic ingredients helping to leave your dishes clean and safe after use. It only contains naturally effective ingredients.
Just fill your dishwasher with a 1 tablespoon per machine load, following the manufacturer's recommendations. Adjust for load size and soiling. For optimal cleaning use a wash cycle that is warmer and longer.
Figgy & Co dishwasher product uses a clever formulation two safe active ingredients and is freshly made in small batches to maintain quality – it's concentrated and effective and a dishwasher powder that gets your dishes clean. Formulated to degrease and clean, deodorize and stop water spots forming- this comprehensive cleaner is made with washing soda and oxygen bleach- that's it!
Figgy & Co dishwasher powder does not use harsh chemicals, fillers, fake fragrance, dyes, enzymes or optical brighteners, and no products are tested on animals. They send in bulk compostable paper bags that we can send back for refilling over and over, so we create zero waste by refilling yours.
Product Information
Ingredients: Washing soda, oxygen bleach.
Septic and grey water safe.
Waterway safe.
Allergen Warning: n/a
Country of Origin: New Zealand
Storage: Store in a cool, dry place away from direct sunlight.